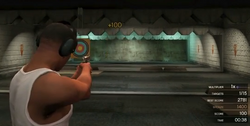 In Grand Theft Auto V and Grand Theft Auto Online, Shooting Ranges are activities or hobbies you can do that are located in a few Ammu-Nations in San Andreas. With a Shooting Range you can level up your shooting skills or train with various Weapons through different challenges. This can also serve as a quick and easy way to build your shooting skills. The entry cost is $14.
Interestingly, the NPCs practicing at the range look and speak Korean.
Warning signs
Edit
Firearms warning: It is a criminal offense to leave a loaded firearm within easy access of a child. If a child gains access to and improperly uses the firearm you may face prosecution.
No food or drink in the range
Ear and eye protection must be worn in the range
Stop: Make firearm safe, deposit brass in bucket, do not leave firearm unattended, clean your point and remove targets
Warning: The discharge or cleaning of firearms and the handling of ammunition in poorly ventilated areas may result in exposure to lead, a substance known to cause birth defects and other serious physical harm. Ensure you have adequate ventillation at all times and wash hands after exposure.
Never point a loaded or unloaded firearm at anyone on these premises. If you do we shall point our firearms at you, and believe us, ours are loaded.
No steel, brass or semi jacketed, exposed lead, soft or hollow point aummunition allowed in the range. Full metal jacket only.
Reloaders, brass keepers. Brass stealers be warned. Do not pick up any of the brass from our floors. there is nothing to discuss. go elsewhere.
Challenges
Edit
The Shooting Ranges in GTA V have different challenges for every kind of weapon: Hand Guns, Sub-Machine Guns, Shotguns, Assault Rifles, Light Machine Guns, Rifles and Heavy Weapons. As with any other kind of Hobby the challenges have Gold, Silver and Bronze Medals that are awarded when completing a Challenge.
Weapon Type
Weapons
Challenges
Gold
Silver
Bronze
Hand Guns
Pistol
Combat Pistol
AP Pistol
Multiple static targets. Targets exit after one hit.
2800
2000
1400
Multiple moving targets. Targets exit automatically.
20000
10000
2000
One moving target. Targets exit automatically.
15000
3000
650
Submachine Guns
Micro-SMG
SMG
Assault SMG
Multiple static targets with the ability to flip. Targets exit automatically.
12000
6000
4000
Single line of moving and flipping targets. Targets exit automatically.
7500
2500
1250
Multiple moving targets with height variation. Targets exit automatically.
10000
5000
3000
Assault Rifles
Assault Rifle
Carbine Rifle
Advanced Rifle
Multiple static targets. Targets exit after three hits.
7550
3550
2500
Single column of moving and flipping targets. Targets exit automatically.
17500
7500
4750
Moving targets of varying height and speed. Targets exit after three hits.
5000
3000
1000
Shotguns
Pump Action Shotgun
Sawed-Off Shotgun
Assault Shotgun
Static targets, each exits after one hit. Hit as many as possible.
46
32
22
Moving and static targets. Shoot closer targets to maximize score.
700
590
290
Moving targets, exits after one hit. Use spread to maximize score.
23
18
14
Light Machine Gun
MG
Combat MG
Targets take multiple hits to exit. Targets move and respawns.
7500
5500
4500
A row of distant targets that flip individually and exit automatically.
40000
12000
5500
Targets take multiple hits to exit. More targets spawn continually.
32000
19000
7500
Heavy
Minigun
One row of targets that respawn. Continuous hits increase your multiplier.
50000
25000
10000
Targets that exit after multiple hits. Continuous hits increase your multiplier.
45000
30000
15000
Infinite respawning targets. Exit after multiple hits. Continuous hits increase your multiplier.
70000
40000
20000
Bonus
Rail Gun
Stationary and moving targets. Destroy as many as possible with each shoot.
24
22
20
Multiple moving targets. Destroy as many as possible with each shoot.
24
20
16
Multiple moving targets of varying height and speed. Destroy as many as possible with each shoot.
32
26
20
Multiple quick moving targets of varying heights. Destroy as many as possible with each shoot.
35
31
26
After completion of all challenges for each weapon catagory, the following discounts are unlocked at Ammu-Nation:
At least all Bronze Medals awarded - All items discounted 10%
At least all Silver Medals awarded - All items discounted 15%
At least all Gold Medals awarded - All items discounted 25%
Video walkthrough
Edit