bawsaq.com
Talk

6
10,646pages on
this wiki
"Every day the stock exchange is minting millionaires who know how to play the market. Thanks to online trading with the BAWSAQ stock exchange, you can lay it all on the line by betting on a stock that you read was going to be a sure thing. Or do like many hedge fund managers and embrace the time honored tradition of insider trading and corporate espionage."
―GTA V's official website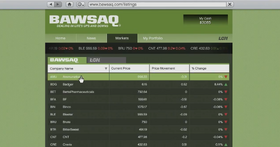 bawsaq.com is the website for the BAWSAQ stock exchange in Grand Theft Auto V. It takes on a large role, as the player can purchase stocks.
Markets
The list is incomplete as the game is unreleased.
Trivia
The name of the site, BAWSAQ, is an obvious play on the word "BALLSACK", another sexual reference by Rockstar.
Gallery