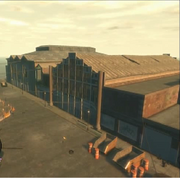 Beaverhead Avenue is a street located in Westdyke, Alderney in Grand Theft Auto IV. Jimmy Pegorino's House is located on this street. The street is home to an abandoned mansion, as well as the abandoned Alderney Casino. The street is used for the last mission, A Revenger's Tragedy/Out of Commission.
There are a couple of reasons for the street name. One theory claims that it is named after the large rock in the state of Montana. A second theory is regards to Rockstar's humor. A Beaver is slang for pussy or vagina. Head is slang for giving someone oral sex. Combine those words to make Beaverhead and it implies someone giving oral sex to a vagina.
This is the spawnpoint in the Multiplayer Party Mode.