Blaine County FLEECA Bank
Talk

4
10,410pages on
this wiki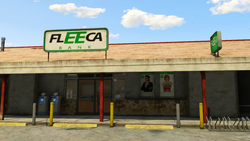 The Blaine County Fleeca Bank is a bank across the street from the Los Santos Customs property that Franklin can purchase near the Fort Zancudo Approach Road in Harmony.
Known Facts
Nothing is known about this bank apart from the fact that it is Fleeca owned and operated. It is located in a small strip building with a Discount Store outlet. Although the player can access it, it serves no purpose in the GTA V or GTA Online storylines. Another thing to note is there are several people in line, but there are no employees inside. The vault door can be found but not opened. There is also a convenience store, Scoops Liquor Barn, right next door that can be entered and robbed.
In Grand Theft Auto Online, players can glitch into this bank using the phone glitch and standing in a certain place. There isn't much to this location, there is a safe, although you can't open it with explosives, melee, or bullets, and the door behind the counter is locked so you can't get into that area.