Bless Your Heart
Talk

0
10,410pages on
this wiki
Bless Your Heart is a talkshow on Blaine County Talk Radio in Grand Theft Auto V. It is hosted by Bobby June, a southern woman passionate about extreme couponing, politics, preparing rather unhealthy foods, homemaking, and other implements of southern culture. 
Guest Appearences
Jock Cranley, a candidate for governor of San Andreas and a former actor, is interviewed on the show. He talks about his beliefs and mistakes. He is quoted on the show saying "No one has made more mistakes than me, Bobby June. That's why I'm uniquely qualified to run this state." He also insults the show's producer, Ricky, by referring to her as 'coffee', Bobby June replying that she is just a little tan.
Samantha Muldoon is also interviewed on the show with her new southern accent. She talks about her career meltdown, her new country music career, how she became conservative, and sings her new song "I Like Things Just The Way They Are". She also talks about how she adopted thirteen children from Africa. In response, Bobby June makes racial comments. 
Video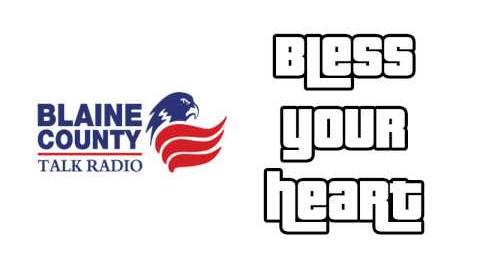 Trivia
Bless Your Heart is the only in-game radio talk show that does not take calls. 
It is filmed in front of a live audience.