Clinton Avenue
Talk

0
10,646pages on
this wiki
Clinton Avenue is a two-way street in Vinewood Hills and Downtown Vinewood, Los Santos in GTA V. From east to west, it begins at Elgin Avenue and ends at Las Lagunas Boulevard. It has connections to Alta Street, Power Street, Meteor Street and Fenwell Place.
Businesses
Downtown Vinewood
24/7 (enterable)
Adult XXX Book Store
Butch
Discount Beauty Store (at the Globe Oil gas station)
Fruit of the Vine
Gem's Jewelry
Glitterati Clothing & Accessories
Globe Oil gas station (corner of Fenwell Place)
Happy Shark
Ice Planet Jewelry
Mano a Mano
Paradise Sauna
Pitchers (corner of Alta Street)
S.F.T. Pawn (corner of Power Street)
Tool Shed
Up-n-Atom Burger (corner of Las Lagunas Boulevard)
Von Crastenburg Hotel (corners of Power Street and Meteor Street)
Wysiwig
Vinewood Hills
Mission Appearances
Miscellaneous
Gallery
Trivia
The street's name may be a reference to Franklin Clinton or two Vinewood actors: Clinton Aumick and Clinton Salsman. The possible reference to Franklin Clinton is strengthened further by the street's location in Vinewood being somewhat analogous to the location of the real-life Franklin Avenue in Los Angeles.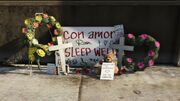 There is a funeral homage near the intersection with Alta Street, possibly for someone who was killed on this road before the events of the game. It is possible to see the name of the deceased person on the homage.