For missions in GTA 1 associated with the car, see Cossie (mission 1) and Cossie (mission 2).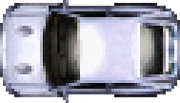 The Cossie is a vehicle featured in Grand Theft Auto 1 and it is based on the Ford Escort RS Cosworth. It is only available in white.
The name 'Cossie' is likely a reference to the fact that the car is based on a Ford Escort RS Cosworth.
The Uranus is the HD Universe counterpart of the Cossie.