Cougars
Talk

0
8,786pages on
this wiki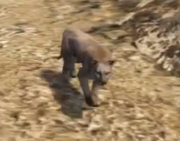 A Cougar (also known as Mountain Lion) is a wild animal featured in Grand Theft Auto V.
Description
Cougars are carnivorous animals living in the wilderness. The Cougar featured in the game resembles the North American Cougar. 
Behavior
As in real life, cougars are not tamable and will either run away (if the player is driving a vehicle or firing a weapon) or, more likely, attack the player unprovoked, killing them. Cougars can usually be found in the high mountains of Blaine County.
Trivia
Should the player try to trap a cougar in car in order to take the cougar to an urbanized area, the animal will eventually die for no reason. This was most likely done intentionally on Rockstar's part to keep players from having cougars kill whole towns.
Cougars were already featured in Red Dead Redemption, another Rockstar videogame, in which they were one of the animals the player is able to hunt, but now cougars are much slower and less agressive.
During hunting activities, Trevor will usually say "I smell a big cat" or "hello, kitty cat!" when a cougar is coming towards him.
They seem to be the only land animals that can kill the player at full health in one hit.
Gallery