Cougars
Talk

0
10,136pages on
this wiki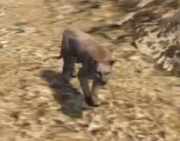 A Cougar (also known as Mountain Lion) is a wild animal featured in Grand Theft Auto V.
Description
Cougars are carnivorous big cats that can be found in forested areas throughout San Andreas, from the Vinewood Hills to Mount Chiliad. When one is nearby, the first giveaway will often be its loud growl. If the area is populated, pedestrians will usually be seen running away and screaming. When attacking, a cougar will relentlessly charge at its victim, pounce on them, and kill them instantly with a throat bite. Its fast speed means that killing one before it pounces requires quick thinking and reflexes.
In the Hunting minigame, cougars will spawn frequently and they give off a red area circle on the map similar to Deer when Trevor uses the diaphragm, often tricking the player into walking right into an attack.
Behavior
As in real life, cougars are not tamable and will either run away if the player is driving a vehicle or firing a weapon, or, more likely, attack the player unprovoked, killing them.
Trivia
Gallery