Crews/Reapers Chapter MC
Talk

0
9,355pages on
this wiki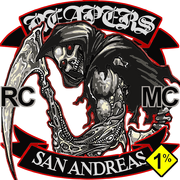 Reapers Chapter MC is a crew based in GTA Online that is on XBL and PSN. The crew is based in San Andreas and is one of the most powerful Motorcycle Club's at the moment. They are one of the friendlyist also but if you cross them, they do not forgive and they do not forget. If you are looking to join them then click here to go to their website. Here are the links to the XBL or PSN Social Club crews.
How long has RCMC been around?
Reapers Chapter MC was founded Sep 24, 2013
Why choose RCMC?
Because we are one of the best Motorcycle clubs out there, why wouldnt you choose RCMC?