Curtis Weaver
Talk

0
8,672pages on
this wiki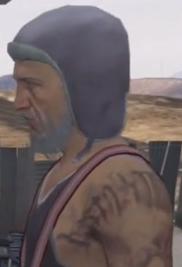 Curtis Weaver is the fourth and final bail jumper in Grand Theft Auto V. He has taken refuge at Dignity Village at the most northern part of the map. He will start shooting (with a pistol) when he sees the player and begin to run up a hill, but has no bodyguards and is relatively easy to stun.
His personality is the typical bold activist that despise the goverment and its stooges (for him, Trevor is one of them), he made a conscious decision to "reject capitalist society" by living in a hobo camp. If captured alive will try to justify his surrending with an anti-government speech, then engaging into a heated debate about anarchy and anti-establishments stances with Trevor, causing the later to get enraged after Curtis mentioned about Philip's father.
He got incarcelated after a sit-in demostration outside The Exchange in Algonquin, Liberty City (maybe a parody of the Occupy Wall Street protest movement that started in New York City in 2011) after things went wrong and assaulted a cop with a fire extinguisher.
Me again
This old-timer's one of them crazy anti-establishment types, lives outside the system in some kind of hobo camp. Might look harmless but watch yourself, he's got a couple of screws loose alright.