Daisy Lee
Talk

0
10,657pages on
this wiki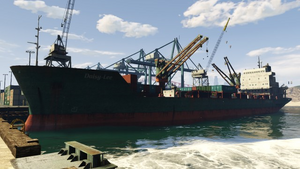 The Daisy Lee is a container ship in Grand Theft Auto V. It is a small to medium sized container ship docked at the Terminal, in Los Santos. The ship's color is green and red and the port of registry is Pumpherston.
Mission Appearances
The Daisy Lee makes an appearance in the Minisub heist setup mission. Trevor must there steal a Submersible either by dropping it using the commands of the deck, or by shooting the wires from the dock.
Trivia
The Daisy Lee's name could be a reference to the show The Dukes of Hazzard. Daisy Lee is a portmanteau of Daisy Dukes (one of the main characters) and the General Lee (the main vehicle).
Both the Daisy Lee and the SS Bulker use the same model, the only differences being the SS Bulker holding more containers on the deck and having a black base color instead of green.

Coincidentally, the Submersible stolen from the Daisy Lee can be used to rob the SS Bulker if the player has chosen the Freighter approach for The Merryweather Heist.

It is unknown if Pumpherston is an international place or within the United States. Pumpherston is a real place in real life located in Scotland but it is unlikely this is the ship's home port because Pumpherston is not located near water. Pumpherston is never mentioned or seen in any game other than GTA V on the ship. Since Rockstar North is a Scottish company, Pumpherston is probably based on the Scottish location.
Gallery
See Also