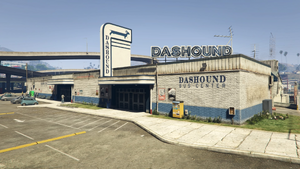 The Dashound Bus Center is an inaccessible, security camera-operated bus terminal in Grand Theft Auto V located on Integrity Way and Strawberry Avenue in the neighborhood of Textile City, Los Santos. Opposite the north entrance to Simmet Alley are eight terminals lined with Sprunk vending machines, public telephones, and advertisements such as "Speed kills - Take the Dashound," "Long journeys need short legs," and "You're onto a wiener."
Influence
The Dashound Bus Center is based off the Los Angeles Greyhound Station, located at 1716 E 7th St.
Mission Appearances
Trivia
"Dashound" is based off of Greyhound Bus Lines. Both company names are breeds of dogs and the logos of each are very similar.
According to signs, the center's speed limit is five miles per hour.
Several "pay stations" are located outside the entrance to the building.
Despite not being named after the Dashound, Los Santos Transit buses use this station.
Gallery