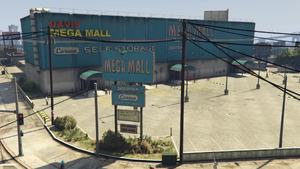 The Davis Mega Mall is a shopping center in Grand Theft Auto V located on Brouge Avenue, Carson Avenue and Davis Avenue in Davis, Los Santos. It is based on the Slauson Super Mall of South Los Angeles.
This mall is open 24 hours and includes a large parking lot, a discount jewels shop and a self-storage service. The mall is not accessible by the player and plays no role in the storyline.
Collectibles
Edit
One of the letter scraps can be found inside a dumpster in the parking lot.
A Mule often spawns at the mall's parking lot.