Dump
Talk

0
8,719pages on
this wiki
The HVY Dump is a Off-road dump truck in Grand Theft Auto V. This vehicle should not be confused with the DUDE Dumper in GTA San Andreas.
Description
The HVY Dump is a large-slow moving vehicle in Grand Theft Auto V. The Dump is a particularly strong vehicle and can act like a lesser version of the Rhino tank due to the extreme damage it can cause other vehicles but unlike a tank, the driver is vulnerable and risks being killed by the explosions caused by the Dump. Even though its manufactured by HVY, a Brute badge is seen on the container. Unlike the Dumper from GTA SA, the tipper cannot be raised up and down.
Design
It is based on a CAT 789C.
Locations
Single Player
Multiplayer
Video
The location of the HVY Dump can be found in the video below.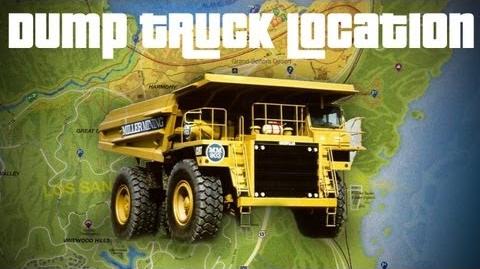 Gallery
Trivia
The word Dump is a double-entendre, referencing the slang term which means defacating. 
The Dump is one of the largest controlleable land vehicles in the HD Universe.
The Dump is the first vehicle in the HD Universe to feature suicide doors.
Fully running over a vehicle in the HVY Dump will blow up the both the truck and the vehicle as unlike the Rhino tank, the Dump does not withstand explosive damage.
See also