East Los Santos (HD Universe)
Talk

2
10,219pages on
this wiki
"East Los Santos has a high concentration of Latino residents and a strong gang presence, in particular the Mexican gang Los Santos Vagos and, in the Murrieta Heights area, El Salvadorean gang the Marabunta Grande. Not recommended for tourists at night, or during the day for that matter."
―GTA V digital manual
For the neighborhood in Grand Theft Auto: San Andreas, see East Los Santos (GTA SA).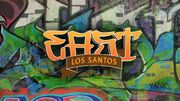 East Los Santos is a large district in the east of Los Santos, hence the name.
Character
East Los Santos is a primarily Latino neighbourhood, containing people from all over Latin America, including Mexicans, Salvadorans, and maybe even Dominicans. It is defined by the poor and rundown atmosphere with graffiti defining the walls of the buildings. There is a large gang presence in the area, mostly with the Los Santos Vagos and the Varrios Los Aztecas. It is quite dangerous for tourists, even in daytime.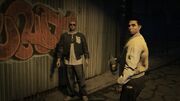 Events of GTA V
Influence
It is based on the real life Latino district of East Los Angeles.
Gang control
Notable residents
Transport
Places of interest
Businesses
Collectibles
Trivia
Gallery
See Also