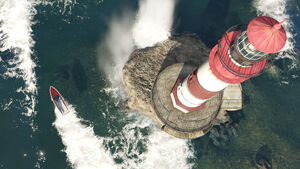 El Gordo Lighthouse is a small settlement along the east coast of San Andreas. The grounds contain a house composed of Cape Cod architecture and a lighthouse on an island a few hundred feet away. It is located in Cape Catfish, Blaine County.
Events of GTA OnlineEdit
The lighthouse is the drop off point during the Series A Funding finale, Trevor meets the drug buyer near the house, but turns out that the drug deal was a sting operation runned by DOA agents.
Known Residents
Edit
Ursula (only known resident here)
Ursula's mother (deceased)