Epsilon Program in HD Universe
Talk

6
8,693pages on
this wiki
| | | |
| --- | --- | --- |
| | This article or section needs to be cleaned up to meet the standards of GTA Wiki | |
The Epsilon Program is a fictitious religious cult in the HD Universe which is also featured in the 3D Universe. The infamous 12 Tenets has been kept over the HD Universe, but new Goals and Pledges have been created. The cult also uses the same site. Rockstar also explained why those beliefs remained unchanged, "The Epsilon Program does not exist in just one time or place." On 29th of April, 2013, fans could apply to be casted as one of five Epsilon Program members.
Beliefs

1. The world is 157 years old - FACT!
2. Dinosaurs are a lie that people believe because they are weak - FACT!
3. You are happy, you just don't know it - FACT!
4. We all come from the same tree - FACT!
5. Everyone is related to everyone else, except for people with red hair - FACT!
6. Sperm does not exist - it is a lie spread by biology teachers - along with everything else you have ever been told - FACT!
7. Men are supposed to lie with nine new partners a week. Women are supposed to lie with six, except for in July, when they must lie with five men a day - FACT!
8. Aliens exist and are present on earth. If you have a birth mark, you may be descended from Kraff, the famous Emperor of the 4th Paradigm - FACT!
9. Trees talk, but only some people hear them - FACT!
10. People who believe in something live much longer than atheists, and they have eternal life thrown in for good measure - FACT!
11. If you believe this and turn your hands and wallet over to EPSILONISM, you'll live a happy life. Otherwise you are doomed - FACT!
12. KIFFLOM - HAPPINESS IS YOURS! KIFFLOM!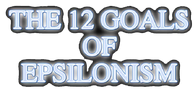 I. We are making an assault on happiness.
II. We will be generous, in ways that are upwards and ways that are manifest.
The Goals of Epsilonsim will continue to be revealed in due time. KIFFLOM.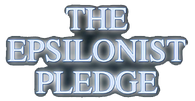 All good things come from Kraff, that is the fact on which Epsilonism is built.
Epsilonism is a science as well as a Religion - in fact, we are the only religion that is also a science and which is concerned with seeking the truth.
As real truth seekers, we are willing to pay to make the search go better. In this way we are investing in our future.
The Pledge will continue to be revealed in due time. KIFFLOM.
Members
Several references to Epsilon Program, both direct and indirect, exist in GTA IV. There are hobos who believe aliens are trying to take their sperm, pedestrians who cry, "Oh no! They've killed another truth seeker", and soapboxxers who rant about the paradise and how all others are slaves and damned. Bluesy St. John claims she once ended up spending her Thursday nights in a group that prayed to Kifflom. Brendan Roberts suggests that he is a member of the cult, as noted when he says "Kifflom" at the end of his interview on Intelligent Agenda on Public Liberty Radio. The cult sponsors Chiropracticovernight.com, and is mentioned by the MyRoomOnline user RavenVamp11 on her profile. In The Lost and Damned, there's a website called Morningwoodspa.com.
One of the therapists named Betty 'Mama Bear' Wiffleton's description says that "Betty ran a cult with her ex-husband, who also happens to be her brother and uncle" (Brother-Uncle reference). It also says, "She trained for three days at the certified shaman in the state of San Andreas. Betty appears to be an Epsilon Program member based on what her description said, stating that she was in San Andreas (where the Epsilon Program is based) and of her running a "cult".
However, excluding all the above, the Epsilon Program doesn't play a role in GTA IV's storyline.
Headquarters
Epsilon's headquarters are located in
Los Santos
, in the district of
Rockford Hills
, near
Michael De Santa
's
mansion
.
Pre-Truth mission
Near the beginning of GTA V, the player can hear a Weazel News broadcast that informs that the Epsilon Program was denied religion status by the United States government and is now free for the government to tax. They later state that Cris Formage was seen crying on the steps of the court house.
Overview
In GTA V, Michael can become a member of the Epsilon Program after completing a series of tasks. These are initiated by going to the programs on the Epsilon website and answering a short survey. After the survey has been completed, Michael must go out into the Grand Senora Desert to find a red pickup, after which point he must complete the following tasks:
Once all of these missions have been completed, Michael will be contacted by Marnie Allen, who will tell him that he needs to find all 10 Epsilon Tracts in order to write the Epsilon Tract of the 9th Paradigm, which according to her, is already written. The 10 Epsilon Tracts must be collected in a specific order and cannot be found without her help. At the end of each text message Michael receives from her, he will see a small riddle, which gives information regarding the location of the next Epsilon Tract.
As a reward for finding all of the tracts, Michael will be able to read The Epsilon Tract of the 9th Paradigm, Year 157 by visiting the Epsilon website.
It is shown that the Epsilon Program actually is completely true, as after the player's first death, they will see a vision of what appears to be Heaven, and will be visited by the cult's leader, Cris Formage, who explains the concept of Passive Mode, and revives the player. Despite this, the cult still plays a minimal role in GTA Online.
Promotional Material
Official Merchandise
Starting 2012, people could buy Kifflom Tees from the Rockstar Warehouse, which hinted at the cult's appearance in GTA V.
On April 23, 2013, a Screensaver which included all Epsilonism's beliefs appeared on Rockstar Newswire.
Screensaver
| Full Version | No Text Version |
| --- | --- |
| | |
"The Goals and the Pledge of Epsilon will continue to be revealed in due time.
The Epsilon Program does not exist in just one time or place. We invite you to visit one of our enlightenment centers.
Directions will be provided in one week's time."
Casting
Winners
On September 6, Rockstar Games launched the new 'Cultstoppers' website and posted a related image, showing five characters based on the winners:
Gallery
Trivia
All vehicles used by the Epsilon Program's "thesis holders" are painted an unobtainable shade of baby blue, not available in Los Santos Customs. This, naturally, makes all of their cars quite rare.
If the player goes on epsilonprogram.com as Trevor, he will say that only dumb people join cults and "If I wanted to be in a cult, I would have created one".

The same thing applies to Franklin, but he'll say something different.

The Shelly app on the Fruit website says "Kifflom" during the app demonstration.
The Epsilon Program's headquarters is modeled after the real life Scientology Celebrity Centre in Hollywood, California.
The Epsilon Cult makes several references to aliens and the apocalypse so that may or not be the basis of future content on the matters.
External links