Flash FM is a Vice City radio station hosted by DJ Toni that appears in Grand Theft Auto: Vice City and Grand Theft Auto: Vice City Stories. In 1984, Toni was accompanied by another DJ, Teri. Flash FM plays pop music and is one of the favored radio stations of the Streetwannabe's. It is also played in the Vice City Bikers bar. During the show, Toni sometimes makes off-handed sexual references to pun the station's name. This is because the term "Flash" is also a slang for removing one's clothes quickly and "flashing" a private body part, such as breasts or buttocks.
GTA Vice City playlistEdit
Songs marked with * don't appear in the 10th Anniversary Edition, songs marked with ** only appear in the original PS2 version
GTA Vice City Stories playlistEdit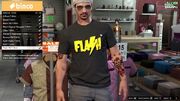 Two of the songs from this station, "Out of Touch" by Hall & Oates & "It's My Life" by Talk Talk, appear in Saints Row 2 and Saints Row: The Third respectively. Both games are considered by some as GTA Clones.
In Grand Theft Auto Online, during the Halloween Weekend, a t-shirt with the logo of the radio station was available through Crate Drops.