Clinton residence
Talk

0
9,260pages on
this wiki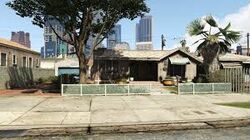 The Forum Drive safehouse (also known as the Clinton Residence) is the first safehouse used by protagonist Franklin Clinton in GTA V.
Description
The safehouse is located on Forum Drive, Strawberry, and is unlocked after Franklin and Lamar. Following Franklin's move to 3671 Whispymound Drive, Vinewood Hills after Hotel Assassination, the safehouse is turned into a 'center for women' by Denise Clinton, and the interior and garage are made inaccessible to the player.
Amenities
The safehouse is a single-story, 3-room (excluding the kitchen and bathroom) bungalow. The player can save their game in Franklin's bedroom, on the first door to the left of the main entrance. Across the hallway is a small living room with a television that can be interacted with and a supply of weed joints that Franklin can take a hit from. The living room leads on to the small kitchen, where Franklin can take a sip of beer or collect a first-aid kit. A single car garage can be found to the left of the main entrance. Chop can be interacted with behind the house. When replaying a mission ( after beating Hotel Assassination, depending on the mission if Franklin's by his house), Franklin can enter his house and find his room cleared out (since he moved to Vinewood Hills).
Residents
Mission Appearances
GTA V
Gallery