Gang Attacks
Talk

0
9,719pages on
this wiki
| | |
| --- | --- |
| | This article or section is Under Construction. |
Gang Attacks are a set of side missions in Grand Theft Auto Online. They can be accessed through Free Mode, and are played during Free Mode. In total, there are over 50 Gang Attacks located throughout San Andreas. There are many types of enemies fought in Gang Attacks; these range from the Ballas gangsters to the Merryweather Security mercenaries. Completing more than five Gang Attacks on the same gang can result in the gangs' leaders to threaten the player via text messaging and set a bounty on them.
Description
On the Radar, there will be a large red circle encompassing a certain area. If the player walks into the middle of the red circle, enemies will come towards the player and if the player pulls out a firearm and starts shooting, the Gang Attack will be triggered. This can be noticed easily as the icons on the Radar will disappear, indicating a Gang Attack will occur. The player must defeat several enemies, usually 15, in order to complete the Gang Attack. There can be as many as 25 enemies.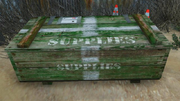 During a Gang Attack, there will be several supply boxes located around the area. These boxes contain weapons and ammo, snacks that restore health, or even money. This is useful for players if they need supplies quickly during the battle.  Some crates contain weapons that unlock at high level, particularly the Combat MG and Carbine Rifle.  This makes Gang Attacks a good way to obtain more powerful weaponry than is available at lower levels.
The payout of a Gang Attack can vary. Usually, the player will gain $200 and 500 RP. If there are other players in the Gang Attack, the payout will be increased, respectively. The RP can be increased if the player obtains more headshots or point blank kills during the battle. When a Gang Attack is over, money and weapons from the enemis will be dropped, collecting all which should equal about $1,000.
Enemies
Locations
Trivia