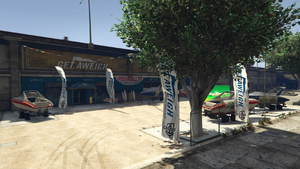 Get Aweigh is an international boating dealership in Grand Theft Auto V located next to Sanders Motorcycles on Adam's Apple Boulevard in Mission Row, Los Santos. Other than boats, the business sells jet skis, fishing equipment and surfboards. It is owned by Castoff, as the logo is seen on flags surrounding the area.
Trivia
Its name is a play on the phrase Get Away.
Aweigh is a nautical term that means an anchor is no longer hooked into the bottom.
The boat name Rufus may be a reference to the Marston family dog in Red Dead Redemption.
A Sprunk X-Treme ramp is located at the far right corner for stunt jump use.