Glendale
Talk

0
9,365pages on
this wiki
The Glendale is a four-door sedan featured in Grand Theft Auto: Vice City, Grand Theft Auto: San Andreas, and Grand Theft Auto: Vice City Stories.
Description
Design
Designed as a 1950s/1960s sedan, the Glendale appears to be the result of joining two halves of two different real-life cars; the front resembles a 1955 Buick Special, with the headlights and roof from a 1957 Chevrolet Bel Air, while the back and sides resemble a 1961 Dodge Polara. It is not known While commonly featuring a two tone paint scheme (the roof being white), a Glendale in GTA San Andreas has a color variation that is totally red though. The roof color can also be modified in GTA San Andreas via Transfender. It is most likely manufactured by Declasse or Bravado.
Along with the Broadway, Hustler, Savanna, Tornado, and the Voodoo, the Glendale in GTA San Andreas doesn't appear to have fuel caps but will explode if shot on the back license plate, perhaps indicating that the car's fuel cap is behind the license plate like some cars in real-life.
Performance
In terms of performance, the car is only average, with an average top speed, mediocre acceleration, moderate endurance and average cornering. The vehicle's power-to-weight ratio may be a contributing factor to its below-average acceleration, as the car is heavy but posses a weak engine, and as a result, is also a poor hill climber.
Prominent uses
The Glendale is a common gang car, predominantly in GTA San Andreas (the Varrios Los Aztecas); where it spawns commonly and its occupants take part in a drive-by shooting. In addition, Big Smoke drives a Glendale with a blue body and a white roof, which plays a small role in several missions (mostly as transportation from his home to the mission location).
Variants
"Beater" Glendale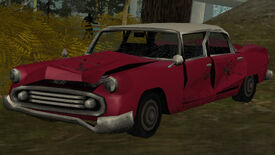 The "Beater" Glendale (internally named the "GLENSHIT") is a GTA San Andreas variation of the Glendale in which the car is damaged, cannot be fixed (you can fix the tires if you shoot them out), and cannot be modified. The "beater" variant has also different wheels and slightly different interior compared to normal Glendale. They have been seen spawning in several places in San Andreas, especially between the two horseshoe shaped rocks in Back o' Beyond.
Bloodring Banger
The Bloodring Banger featured in GTA Vice City and GTA San Andreas adapts the Glendale into a demolition derby car outfitted with various modifications for such competitions, such as metal bars on the exterior, for protection, and a much more capable engine. While the Glendale is one of two models the Bloodring Banger is based on in GTA Vice City (alongside the Oceanic), only the Glendale-based Bloodring Banger remains in GTA San Andreas.
Car modification (GTA San Andreas)
Type
Upgrade
Cost
Color
Car Color 1 (64 different colors)
$ 150
Car Color 2 (64 different colors)
$ 150
Nitro
2x Nitrous
$ 200
5x Nitrous
$ 500
10x Nitrous
$ 1000
Wheels
Access
$ 1140
Ahab
$ 1000
Atomic
$ 770
Grove
$ 1230
Import
$ 820
Mega
$ 1030
Off Road Wheel
$ 1000
Twist
$ 1200
Virtual
$ 620
Wires
$ 1560
Car Stereo
Bass Boost
$ 100
Hydraulics
Hydraulics
$ 1500
Locations
GTA Vice City
GTA San Andreas
GTA Vice City Stories
Trivia
Notable Owners