Hawick
Talk

0
10,410pages on
this wiki
Hawick is a district located in Vinewood, Los Santos. It is bordered by Rockford Hills to the west, Downtown to the south, Mirror Park to the east, and the rest of Vinewood to the north.
Character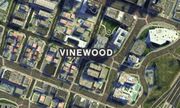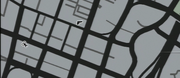 Hawick is primarily a commercial area dedicated to shopping. There are several stores located in Hawick, including Ammu-Nation and Hippy Feet. There is one main road that passes through Hawick and contains most of the businesses. The businesses in Hawick aren't that high-end, despite Hawick's close proximity to Rockford Hills. It could be possible that Hawick is meant as a shopping district for nearby Mirror Park, considering how much money the hipsters have in Mirror Park.
Events of GTA V
The mission Eye In The Sky partially takes place over Hawick, while Trevor is piloting a Maverick looking for Chad Mulligan. Occasionally, Michael De Santa can be seen dropping off his wife in his Tailgater to let her shop. He tells her to not spend too much.
Influence
Hawick seems to be based off of the Melrose District.
Notable residents
Transport
Hawick is well-served by the Los Santos Transit in the form of various bus stops along Hawick Avenue.
Roads and Streets
Places of Interest
Businesses
Acting Up (Melrose Tattoo)
Bourgeois Bicycles (Zane Melrose Avenue)
The Fish Net Restaurant (The Foundry on Melrose)
Flickers Comics (Golden Apple Comics)
Gear Clothing (Yonada Inc.)
Del Perro Boulevard1 Gallery (Tasende Gallery)
Hawaiian Snow (Burton & Channel Islands Surfboards)
Hippy Feet (Chuck's Vintage)
La Linterna Mexican Restaurant (La Golondrina Cafe)
Little Tea Pot (Ürth Caffe)
Mattress of Fact (Melrose Carpet)
Period Rags (American Vintage)
Periscope (James Perse/The Cove)
Vinewood Music (Melrose Music)
Vinewood Plaza (Sunset Plaza)
Vinewood Sports LS
Xhoti (Forgotten Saints)
Yeti (Loyal Army clothing)
Collectibles
Trivia
Gallery