Helmet
Talk

0
10,407pages on
this wiki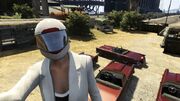 The
Helmet
is a clothing item that appears in
Grand Theft Auto: San Andreas
,
Grand Theft Auto IV
,
The Ballad of Gay Tony
 and
Grand Theft Auto V
.
GTA San Andreas
ProLaps offers four kinds of helmets: the Boxing Helmet ($80), Full Face Helmet ($150), MotoX Helmet ($100), and Helmut ($100).
GTA IV and Ballad of Gay Tony
The Helmet is no longer a purchasable item. When you ride a motorcycle, it will automatically be put on your head if you do not drive the motorcycle immediately after getting on. If the player gets off from a motorcycle, he will discard the helmet. Some NPCs also have unique helmets, while others wear no helmet at all.
It offers no protection against crashes and the impact of bullets.
In The Lost and Damned, the player doesn't wear a helmet, due to the outlaw motorcycle gang theme of the game.
Grand Theft Auto V and GTA Online
Helmets return and are used in the same way as in GTA IV & San Andreas. They have however lost their protective functionality when the player falls off of a motorcycle. In GTA Online, all players start with Trevor's Black Open-Face Helmet. During motorcycle races they will automaticly be wearing the last helmet they equipped (additional helmets can be purchased at a clothing/discount store).