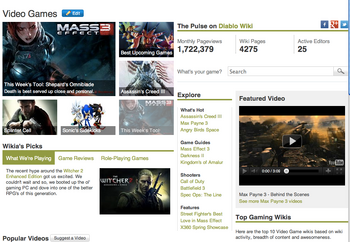 Looking for the latest information on games, TV or movies? Well, look no further, as the
Video Game
,
Entertainment
and
Lifestyle
hubs
are here for you to discover and enjoy! Each hub is updated regularly by Wikia Staff to keep you up-to-date on what's going on at Wikia. Feel free to suggest a video or recommend an article from your own wikia.
Suggest a video
Suggest your favorite video to the appropriate hub. Have you recently made an awesome walkthrough of your favorite video game or want to showcase your lastest crafting project? This is the place to do it!
Simply click on the "Suggest a Video" button and enter in the URL of the video you want to submit. Be sure to link the wikia it's related to!
Recommend an article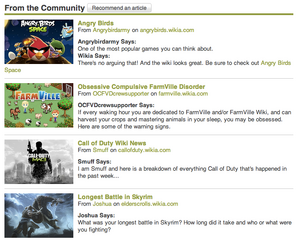 Have you written a great article or blog post lately? Share it on hubs! Scroll down to the "Recommend an Article" section. Here you can share a link to a page on your wikia. Be sure to write up why you think it's cool and deserves to be featured on the hub.
Additional notes
Please keep in mind that anything you submit is merely a suggestion and that it's not guaranteed to be featured on the hub.
See also
Further help and feedback