"Oh, a donut. Make it large."
―A quote used by Joey.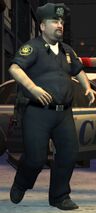 Joey is a character in Grand Theft Auto IV. He is a member of the Liberty City Police Department, a white fat cop wearing a black jacket and tie. He can be seen patrolling on foot and in the Police Cruiser and Police Patrol.