K-Rose is a country music station in Grand Theft Auto: San Andreas, hosted by Mary-Beth Maybell.
Description
Maybell plays music from the 1950s to the 1980s. None of the music used for this station was made in 1992, which is the setting of GTA San Andreas. The station broadcasts from somewhere in the desert, possibly from the radio tower by The Big Ear. Mary-Beth Maybell will sometimes play a harmonica in her pants.
Playlist
Videos
Trivia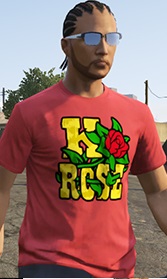 K-Rose is one of three country radio stations in the Grand Theft Auto games, the second being The Fergus Buckner Show FM in Grand Theft Auto 1 and the third being Rebel Radio in Grand Theft Auto V.
The track "New York City" was not listed in the included booklet guide for the first PS2 version, but was included in later versions.
The name of the station is a possible reference to Ken Rosenberg or his company, K. Rosenberg & Co.
After the song "Louisiana Woman, Mississippi Man", Mary-Beth claims she has never been east of the Mississippi River, but after another song, she starts talking about belt buckles, and she says she "bought a huge one in Florida the size of a hubcap."
After Carl Johnson begins working with Catalina, Mary-Beth mentions a rumor she heard about a young couple stealing across the state. It could be reference to CJ and Catalina stealing from stores across Red County.
Besides weather reports, Mary-Beth will comment on storyline events.
There is a real world radio station called "K-LOVE", which was founded in 1982. K-Rose's name could possibly have been inspired by the station's name.
During the San Andreas Anniversary Weekend, it was possible to find a T-Shirt with the K-Rose logo in the random Special Crate drops in Grand Theft Auto Online as a wearable piece of clothing for the multiplayer character.
See also