Karl Kelly
Talk

0
10,658pages on
this wiki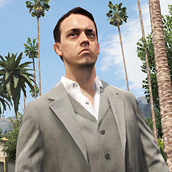 "It takes a special kind of integrity for a man to be both a newsmaker and a marketmaker without it becoming a conflict of interest."
―Karl Kelly
Karl Kelly is a character in the Grand Theft Auto series, appearing in the promotional "Lifeinvader" website for Grand Theft Auto V. On his profile, it is revealed his birthday is on July 27.
Kelly is a finance reporter for Weazel News, and an author of his book, Mounting Bulls and Riding Bears, who is living in Richman, Los Santos. Kelly owns an account on Lifeinvader, on which he often posts different statuses. He has an ex-wife named Cynthia.
Lifeinvader Statuses
"My book Mounting Bulls & Riding Bears will be in stores in less than a month! I'll teach you all the overly-complex financial jargon you need to fool people into thinking you actually understand how the stock market works. It's got me this far!"
"When it comes to the stock market, don't overthink it. Buy my book Mounting Bulls and Riding Bears. I predicted the financial crisis."
"In many ways, wives are like stocks. You get them while they're vulnerable, ride them till they peak, then dump them for a volatile young start-up. No hard feelings, Cynthia."
"It takes a special kind of integrity for a man to be both a newsmaker and a marketmaker without it becoming a conflict of interest."
To the idiot who keeps spraying anticapitalist propaganda on my car, my middle name does not begin with K"
For the right angle on world events, look to Weazel News. Let's get big business back on its feet!"
Gallery