Kortz Center
Talk

0
10,628pages on
this wiki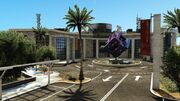 "Perched on an idillic location in the Pacific Bluffs, the Kortz Center is the most visited cultural institution in America; testament to the theory that, if you put a museum in paradise, you can get any old buffoon to come and look at art"
―GTA V digital manual
The Kortz Center is a complex of cultural buildings located in Pacific Bluffs, northwest of Los Santos. It is based on the real life Getty Centre in Brentwood, Los Angeles.
The institution is the home of cultural foundations, research centers and museums. There are sculptures, terraces and gardens in its area, as well as a vehicle parking and a labyrinth.
There are four main buildings in this facility:
Mission appearances
Trivia
Its area includes a labyrinth where one of the 50 letter scraps used to solve the mystery of Leonora Johnson can be found.
One of the exhibits is called "Liberty City Tales". It focuses on the crime of Liberty City. This may be a reference to the previous games, GTA IV or GTA Liberty City Stories.