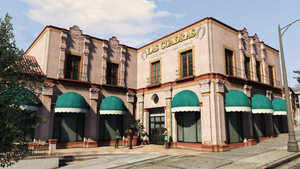 Las Cuadras is a restaurant deli, and bar in GTA V located on Boulevard Del Perro in Del Perro, and Morningwood, Los Santos. The business provides customers with a six-space parking lot which is accessible to the left of the bar. Behind the building are Residential Recycling Program wheelie bins and Household Order Bin Operations dumpsters.
Trivia
Its name translates to "The Stables" in Spanish. In correspondence, the logo bears two horseshoes.
A Vitreous air conditioning unit is located on the roof of the second building.