Los Santos City Hall (HD Universe)
Talk

0
10,490pages on
this wiki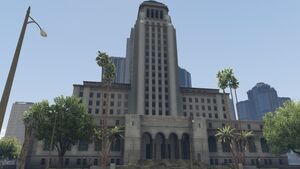 The Los Santos City Hall is the center of the government of Los Santos, San Andreas, in Grand Theft Auto V.
Description
It is located on Occupation Avenue in Alta, Vinewood. The building presumably houses the office of the Mayor and contains many local government agencies.
The building is inaccessible to the player, although it is possible to pass through a window into the un-modeled interior.
Unlike the other City Halls in the incorporated cities within Los Santos in Davis, Rockford Hills and Del Perro, there are no external signs or indicators of the building function. It is only through the appearance of the building on the Vinewood tour and the appearance in Franklin Clinton's series of Grass Roots missions that confirm it is the City Hall.
Influence
It is modeled after the Los Angeles City Hall. 
Gallery
Trivia
When on the Vinewood Star Tours, one tourist will comment on how the building looked much bigger previously. This could be reference to how the building was apparently downsized since its last appearance in Grand Theft Auto: San Andreas, although it could be a reference to the fact that, just like in real life, the City Hall used to be the city's biggest structure for many years before all the skyscrapers were built, and therefore it looked bigger in comparison with the rest of buildings in the city.

The tour guide also comments that the City Hall was used during the final battle of the movie Invasion: Los Santos.

The building is shaped like a penis, and the building behind it in Downtown Los Santos has "Penris" written on it. This is most likely an easter egg.
See Also