"Perhaps, here... things will be different."
This article, or parts of it, are Speculation and may not turn out to be correct.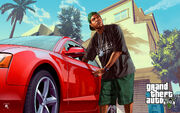 The Magnetics is a sports team in GTA V. It is possible that the Magnetics are a professional football team based on the Oakland Raiders.
The team may be a reference to Oakland, California's sports teams, as their colors of black and silver match those of the Oakland Raiders NFL team, while the Magnetics nickname is similar to that of the Oakland Athletics MLB team.