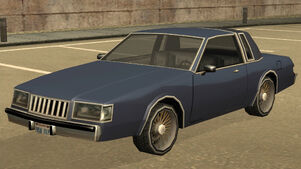 The Majestic is a car featured in Grand Theft Auto: San Andreas.
Description
The Majestic is a 1980s two-door coupe based on a 1982-1987 Buick Regal. The car performance is ranked in a mid range; although its top speed is slightly above average, its acceleration and braking are generally average, and its cornering is relatively stable given its rear wheel drive.
The Majestic is one of two gang cars driven by members of the Ballas. However, it is not the best choice for performing drive-bys, as it is a two door car - meaning that only one gang member can accompany the player. The Majestic has low sex appeal.
Modifications
The car can only be modified at TransFender garage:
Colors (two external areas)
Hood Vents (two varieties)
Exhaust (three varieties)
Nitro (all)
Spoilers (four varieties)
Side Skirt
Wheels (ten varieties)
Bass Boost
Hydraulics
Trivia
The default radio station in the Majestic is Bounce FM.
The car appears on the mission High Stakes, Low Rider, but the car isn't a lowrider.
The Majestic's name is a play on the word "Regal".
The Majestic is one of the few cars in the game to have 1 exhaust pipe showing, but 2 smoke streams coming out the back.
Two unique colors of the Majestic yellow and blue in the mission, High Stakes, Low Rider.

The Majestic blue and Majestic yellow

Added by

Bruno gomes
Locations
See also