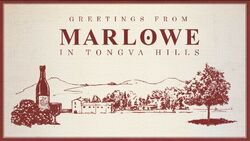 "Come and pay a visit to Marlowe Vineyard, located in beautiful wine country just north of Los Santos. It's a beautiful drive home!"
―Grand Theft Auto V digital manual.
The Marlowe Vineyards is a winery located at Buen Vino Road in the Tongva Hills of northern Los Santos County, San Andreas. It is possibly based on Malibu Rocky Oaks Estate Vineyard.
Its name is probably based on the character Phillip Marlowe, a famous fictional private eye from the novels of Raymond Chandler. Marlowe novels were based mostly in Los Angeles, the city Los Santos is based on.
Mission Appearances
Trivia
Gallery