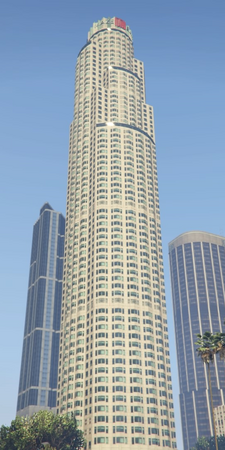 The Maze Bank Tower is a 1,050 ft skyscraper located in Downtown Los Santos, San Andreas in Grand Theft Auto V. It is the tallest building in San Andreas.
DescriptionEdit
This massive skyscraper and its adjoining gardens occupy an entire block in Pillbox Hill, demarcated by San Andreas Avenue, Vespucci Boulevard, Alta Street and Power Street. It is one of the most recognizable buildings in Los Santos, often used in establishing shots for the city in films and television programs. The skyscraper features a usable helipad on its roof.
The building was constructed prior to 1985 and is the main headquarters for Maze Bank, and is based on the real-life US Bank Tower in Los Angeles, the tallest building west of the Mississipi River and the 64th tallest building in the world. It is also the second tallest building in a major active seismic region; its structure was designed to resist an earthquake of 8.3 on the Richter scale.
The Maze Bank Tower is the HD Universe counterpart of the Los Santos Tower from GTA San Andreas.
Events in GTA OnlineEdit
Unlike the Los Santos Tower in San Andreas, you cannot get to the top of the roof on foot (unless you start a parachuting activity). You will need a helicopter to get to the top.
The Maze Bank Tower is 1,050 ft tall, as stated in the description of the parachute jump "Figure of Eight" in GTA Online. This would make it the second tallest building in the HD Universe after the Rotterdam Tower, and barely taller than the Zirconium Building in Liberty City (assuming its height is the same of its real life counterpart, the Chrysler Building, which is 1,046 ft).
It is revealed in the campaign video for Jock Cranley that the tower was built prior to 1985. However, its real life counterpart; the US Bank Tower, was built from 1987 to 1989.