Meadows Park Church
Talk

0
9,656pages on
this wiki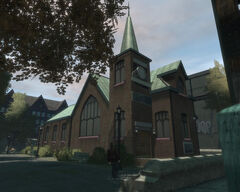 Meadows Park Church is a church located in north of Meadows Park, Dukes, Liberty City next to the east of the house of the McReary's. Across the Savannah Ave at the corner of Middleton Lane. It's the only church in Dukes.
Trivia
Despite being close to the McReary house, the exact denomination of this church is unknown.
The church's moderate style makes it impossible to identify its theology, unlike Columbus Cathedral which is apparently Catholic since it was modeled after St. Patrick's Cathedral, and Suffolk Church modeled after the Anglican Trinity Church, also the Protestant/Catholic style Leftwood Church.
In the graveyard behind the church, there is a tomb or cenotaph with the epitaph below:
Roll of Honor "War of the Deadline" 1869-1869
"for those about to build...... we salute you"
Gallery