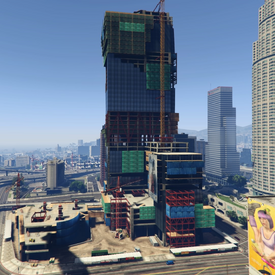 The Mile High Club is a skyscraper hotel complex under construction featured in Grand Theft Auto V and located on Alta Street and Vespucci Boulevard in Pillbox Hill, Downtown Los Santos. The company building the complex is STD Contractors. Its contractor is Enzo Bonelli and its architect is Chip Peterson.
Mission AppearancesEdit
GTA Online Edit
InfluenceEdit
The skyscraper is based on the JW Marriott and Ritz-Carlton hotel building that is a part of L.A. Live, which was under construction from 2007 until early 2010. However, the Mile High Club appears taller and closer to the center of the city's skyline than its real-life counterpart. It could also be influenced by the Wilshire Grand Tower, another supertall skyscraper under construction in the Financial District of Downtown Los Angeles.