Morningwood
Talk

0
9,270pages on
this wiki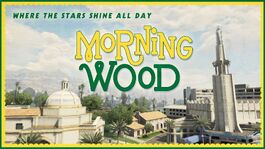 "Morningwood is known to be one the cleanest and safest neighborhoods in Los Santos, which still means that it's filthy and dangerous by most standards. It has a vibrant, ever-changing shopping district, because most stores go out of business in six months when they can't afford the rent."
―GTAV digital manual
Morningwood is a neighborhood in Los Santos, San Andreas.
Character
Morningwood is described as one of the cleanest neighbourhoods in Los Santos. It is filled with large, beautiful mansions and tons of high-end businesses such as G&B. Morningwood is an easy place to find sports cars such as the Adder or the Bullet. Most of the residents here are living a luxurious lifestyle, defined by expensive clothing and housing. Overall, Morningwood is a wealthy, peaceful community.
Events of GTA V
Morningwood is the residence of the family of Ferdinand Kerimov, who the protagonists rescue from the IAA HQ in the mission 'Three's Company', and who is then tortured by Trevor in the mission 'By The Book'. It is in this latter mission that, while being transported to the airport by Trevor, Kerimov tells him that he just wants to go home to his family who lives in Morningwood. 
Influence
The neighborhood is based on Westwood.
Notable residents
Transport
Roads and Streets
Places of Interest
Businesses
Bean Machine (BJ's Pizza Grill)
Cafe Vespucci (The Janns Dome)
Cherry Popper (Sandbag's Gourmet Sandwiches)
Enoteca Kerplonk
Foreign Attire (The Tanning Club)
Fruit Of The Vine
Fuque (Saint Pucchi Sposa)
Gusset (Victoria's Secret)
HommeGina
Laser Prints
L.S. Gentstyle (Weyburn Clock Tower)
Oldie But Goodie Antiquities
Outdoor Action
Vankhov
Viendemorte (Tanino Ristorante)
XYZ Store (Westwood Driving School)
Collectibles
Trivia
"Morning wood" is a slang term for an erection after waking up.
Gallery