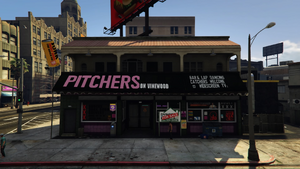 Pitchers on Vinewood is a gay bar in Grand Theft Auto V located at the intersection of Clinton Avenue and Alta Street in Downtown Vinewood, Los Santos.
Description
It is a buyable property for $750,000 after completing the mission Nervous Ron, and it generates a weekly income of $7,100. If Michael, Trevor or Franklin become the owners, they'll have to run some optional management errands, like bringing booze to the bar and protecting the business from Gang Attacks and paparazzis hassling its VIP customers.
E-Mail
Our new owner!
Hey Mr. De Santa/Philips/Clinton.
Hope you don't mind me contacting you like this. I'm the manager at Pitchers so thought it was only right that I introduce myself. Never a dull moment at that place let me tell you! There's a reason we keep the windows blacked out :)
Just wanted to say congrats and let you know I'm here if you need me.
Speak soon,
Luke
- Pitchers
Trivia
Its logo sports the image of the bodybuilder shown in the TBoGT's gay club, Hercules. It is unknown if Tony Prince had anything to do with it.
The front door of Pitchers looks noticeably large, towering over the player.
The bar was voted the #1 gay bar in Los Santos by the Daily Globe, according to signage in its front window. 
Part of the signage will also welcome transgender people, but not straight people. 
A pitcher is a slang term for a dominant gay male in a relationship.