BUSINESS
Radio Los Santos
LCN:
RLS
Tagline(s):
"Blazin' hip hop across San Andreas for 25 years."
"Contemporary Hip Hop blazing into your stereo."
― Description at LCN.com.
Radio Los Santos (106.1) is a radio station in Grand Theft Auto: San Andreas and Grand Theft Auto V. In GTA San Andreas, it plays West Coast hip hop and Rap music from the late 1980s and early 1990s - primarily the "gangsta rap" sub-genre. The player can buy stocks of the radio station on the Lcn-exchange.com website in GTA V.
DescriptionEdit
The station, evidently, broadcasts from Los Santos. This station was released in a joint album with Playback FM as part of the 8-Disc soundtrack. The station also includes references to "carjacking on the rise", Los Santos gang violence, and the Los Santos drug/crack problem - being that these activities play a key element of the gameplay and the story. This is the favorite radio station of the Grove Street Families and Ryder. The station DJ is Julio G. Rapper B-Real from Cypress Hill makes an appearance on the station and so does Madd Dogg who is voiced by Ice-T. Other appearances on the radio station includes OG Loc and Big Smoke once the first chapter (Los Santos missions) has been completed.
In Grand Theft Auto V it appears once again, this time playing modern hip-hop and is hosted by real life radio host Big Boy - host of Big Boy's neighborhood in Los Angeles and voice of Big Bear in Grand Theft Auto: San Andreas.
Playlist Edit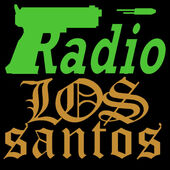 GTA San AndreasEdit
Songs marked with * don't appear in the re-released versions of the game.
Exclusive for PS4, Xbox One, and PC versionsEdit
Deleted Songs Edit
GTA V's trackID.gxt2 database reveals more songs were planned to appear on the station but were not included in the final version.
GTA San Andreas soundtrack:
Grand Theft Auto V original soundtrack:
Grand Theft Auto V enhanced soundtrack:
Radio Los Santos may be based on real life L.A. radio stations KPWR 105.9 (Power 106) and 93.5 KDAY. The SA version of RLS may likely be based on KDAY as Julio G was a former DJ on the station. GTA V's version is likely based on Power 106 as Big Boy is still a radio host for the station (with his segment Big Boy's Neighborhood).
When 2Pac's "I Don't Give a Fuck" plays, Julio sometimes mentions that he is scared about playing the song due to its heavy use of profanity as well as political lyrical content and he'll likely get a fine for playing it.
Radio Los Santos is the default radio station in the Greenwood. However, Sweet's Greenwood plays Bounce FM when entered.
If CJ wears Grove Street colors, sometimes when idling he would rap to Dr. Dre's "Nuthin' But a G Thang."
Jay Rock's "Hood Gone Love It" is used in Franklin Clinton's trailer. It is also played in the Stretch that Jimmy and Michael ride to the Oriental Theater in during the mission "Meltdown."
The GTA V version of the station noticeably doesn't exclusively feature West Coast rappers, as it also features some notable rappers from the South (Gucci Mane, Future, etc), the Midwest (Freddie Gibbs) and East Coast (A$AP Rocky).
This is Franklin Clinton's favorite radio station, as it is the default station for both of his vehicles, and plays inside both of his safehouses.
In the enhanced (Xbox One/PS4/PC) version of the game, whenever the player starts the mission Franklin and Lamar and chooses to repossess either the 9F or the Rapid GT, the radio is switched on automatically to Radio Los Santos and the song Bad News from Danny Brown & Action Bronson will always play.
Radio Los Santos is one of the three radio stations to cross universes, the others being Head Radio and West Coast Talk Radio.
In GTA V, the host mentions that there was recently a new $100 bill being made. This is a reference to how in real life, the United States created a new version of the $100 bill.
Some of the station's songs featured in the PlayStation 4, Xbox One, and PC versions of GTA V are anachronistically featured as they were released in 2014, despite the storyline being set in 2013. Same applies to Radio Mirror Park, FlyLo FM, Vinewood Boulevard Radio, WorldWide FM & Blue Ark FM.
Chuck Inglish's song "Come Thru/Easily" was featured in the soundtrack of Watch Dogs, considered by some to be a GTA Clone.
Kendrick Lamar's song "Swimming Pools (Drank)" has appeared on the soundtrack of Saints Row IV, a game considered by some to be a GTA Clone.
In GTA San Andreas, the song "Check Yo Self" by Ice Cube as featured on the radio, was actually released in 1993, after the timeline of GTA SA.
See also Edit