Rampages in GTA Vice City
Talk

0
10,551pages on
this wiki
Below is a list of rampages and their respective locations that can be found throughout Vice City in GTA Vice City. There are 35 rampages in total.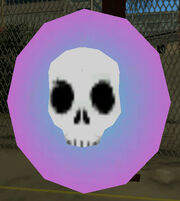 Locations
In the southwestern part of Little Haiti, just south of the Junkyard (located by the water).
Behind the sixth house on the left when going north on the road just east of the Print Works.
Escobar International  *On the roof of Terminal A of Escobar International Airport.
Next to the westernmost house.
On top of the Washington Mall.
Next to the western tower of the Ocean View Medical Foundation.
Behind an opened gate across the street from Rafael's.
On the rooftop of a building directly adjoining the multistory car lot.
Between some houses in an alleyway just south of the Washington Mall.
Near the Alberta Hotel, on the path leading to the Vice City Lighthouse.
On the beach, a little way north of the Lighthouse.
On an artificial island south of Ocean Bay Marina (only reachable by boat or helicopter).