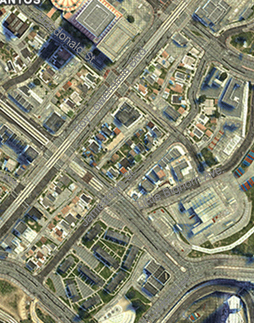 Rancho is a neighborhood in Los Santos, San Andreas in Grand Theft Auto V. It is bordered in the north to the neighbourhood Strawberry, To the lower-east, Cypress Flats, upper-east La Mesa, and to the west the city of Davis.
CharacterEdit
Rancho has high-gang activity, supplemented by a high crime-rate. The area contains small-time businesses, small, single family homes, and a large housing project complex to the south. Rancho is the turf of the Los Santos Vagos and the Varrios Los Aztecas, who contribute to the majority to the area's problems. The neighborhood is primarily Hispanic, like the rest of East Los Santos.
Events of GTA VEdit
Events of GTA OnlineEdit
The neighborhood takes place in missions where the Vagos are involved. Most of the missions involve repossessing vehicles or ambushing drug deals.
InfluenceEdit
The southern part of the neighborhood is based on Watts, whilst the northern part is based on Florence. The projects to the south of Rancho resemble the Nickerson Gardens housing projects in Watts. There are also Los Santos' version of the Watts Towers across the road from the Housing Projects.
Gang ControlEdit
The Vagos are permanently controlling most of the area.
The Aztecas only control the northern section of Rancho, and sometimes are rarely seen.
Vagos control Rancho, unlike in Grand Theft Auto: San Andreas, where Ballas controlled it. However, South Side Ballas wearing Rancho t-shirts suggests that Rancho was once controlled by Ballas.
Notable ResidentsEdit
Places of InterestEdit
Roads and StreetsEdit
BusinessesEdit
Auto Parts
Avalon Laundry and Dry Cleaners
Bean's Market
Beer and Wine
Chantelle's Beauty Salon
Davis Electricals
Discount Beauty Store
Discount Carpet Cleaner
East Los Santos Appliances
Hearty Taco (northern location)
Hearty Taco (southern location)
Hitmen Bar
Gav's Cash Exchange
Mom's Tacos
South LS Liquor
Toke-a-mon Smokers Emporium
Tony's Carpets
Trinculo Clothing
While-U-Wait Express Dry Cleaning (northern location)
While-U-Wait Express Dry Cleaning (southern location)