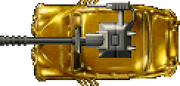 The Jugular Royal Pain is the drivable tank appearing in Grand Theft Auto: London 1969.
Unlike the tanks featured in other GTA games, the Royal Pain does not resemble a traditional tank. It is an enlarged and armored Jug MkII, with gold plating and a mounted gun turret on the roof. However, it remains functionally identical to the tank of the first GTA.
The fact that is a modified civilian vehicle, and not a military vehicle per se, would suggest that it is intended not for warfare but urban use such as riot pacification, with lethal force as an option for emergencies.
The Royal Pain is prominently featured during the "Phone 4 in West Angel #1" mission, in which the player is required to destroy property and kill members of a criminal organization using the tank.
See also
Edit