"No manners required."
— Advertisement for the Speedo
The Vapid Speedo is a cargo delivery van featured in Grand Theft Auto IV and Grand Theft Auto V.
Description Edit
Despite Vapid being GTA's rendition of Ford, the van resembles a
2003-present Chevrolet Express
van but the
front and back ends have been slightly altered. A similar design is used for the second generation
Burrito
 and its
passenger variant
 in
GTA V
. The badge on the rear reads Vapid ST. The Speedo features various company names, such as Deliver Me Timbers,
Easy Lay Carpet
,
Hello Tailor
, and
Nonna Pina's Restaurant
.
From IV to V, the Speedo body shape and general design is the same as in the prequel; however, it no longer bears company logos. 
Performance Edit
The vehicle is quite agile, thanks to its adapted suspension and weightless rear end. Powersliding is quite easy in this vehicle; however, in Liberty City's hilly terrain the Speedo is prone to bouncing about more frequently than other vehicles of its size. The engine is strong, powered by what feels like a high-torque V8 diesel in a rear-wheel drive layout; leading to mediocre acceleration and a reasonable top speed. Anti-lock brakes are an available option, but are not standard. The lack of ABS makes turning and braking simultaneously impossible which is a big problem when slowing down into a 90 degree turn or any type of fast driving or racing.The Speedo is, after the Burrito, the second-fastest vehicle in the "van" classification, attaining a maximum of 153 mph, but it is the most maneuverable.
Variants Edit
An unique variant, dubbed the Clown Van, appears in GTA V. It is a Speedo modified with a very unique paintjob. The vehicle itself only appears during a Strangers & Freaks mission, and cannot be obtained without the use of a save editor.
Company liveriesEdit
Locations Edit
GTA IV + Episodes from Liberty CityEdit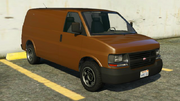 GTA OnlineEdit
Rarely spawns around the industrial area.
Sometimes parked in a parking lot in Chumash Plaza.
Notable OwnersEdit
Speedo is a nickname to Speedometer.

Speedo is also a brand of men's swim briefs.

The default radio stations for the Speedo are:
Due to the fact that the Speedo is made by Vapid, a Ford parody, it's possible that Rockstar's intensions were to make it based off the 1992-2007 Ford Econoline.
This vehicle cannot be taken to a car wash, but can be resprayed at a Pay 'n' Spray.
After collecting all thirty cars for Stevie, he may also agree to purchase cars from Niko Bellic, with the Speedo fetching $2,000.