The
Spray Can
is a
weapon
in
Grand Theft Auto: San Andreas
that has different uses. The weapon is introduced to the
player
in the mission
Tagging Up Turf
.
The Spray Can is used mainly for spraying over other gang's graffiti, such as the Los Santos Vagos and Ballas. The spray-can for gang grafitii is used only in Los Santos.
It can also be used for killing someone by spraying onto a person. It chokes them until they are dead, but it isn't very useful for a lot of threats.
LocationsEdit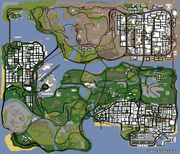 The spray can makes a brief cameo in The Lost and Damned, during the opening cutscene.

In GTA San Andreas, if the player sprays in front of a mirror, the spray will not have a reflection.
Since you are able to kill with it, the spray can is technically the first weapon you receive in the storyline.