For the neighbourhood, see Strawberry.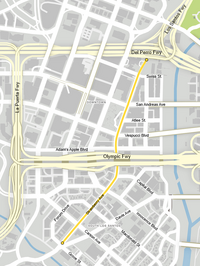 Strawberry Avenue is a street in Grand Theft Auto V.
Strawberry Avenue begins as an offshoot of Davis Avenue in Chamberlain Hills and runs northeast through Strawberry and the border between Pillbox Hill and Mission Row until it transitions into the Los Santos Freeway at the northern end of Textile City.
Notable locations on Strawberry include the Strawberry Station stop on the Los Santos Transit system, Legion Square, and the Pillbox Hill Medical Center.
This street is known as The Families territory. It is based on real life Crenshaw Boulevard.
Notable Residents
Edit
Places of Interest
Edit
Businesses
Edit