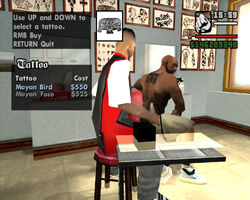 "Tattoos are popular with gang members who like showing that they can write on themselves. It is an important part of the initiation process, I've heard."
―GTA San Andreas Website.
In Grand Theft Auto: San Andreas, Grand Theft Auto: Chinatown Wars and Grand Theft Auto V, tattoo parlors are facilities where the player can include tattoos on their player character.
DescriptionEdit
In GTA San Andreas, much like the haircuts, tattoos increase player respect from fellow Grove Street Families members as well as sex appeal from girlfriends. There's a total of four tattoo parlors in the game.
In GTA Chinatown Wars, the player cannot receive tattoos, but instead he can work in the tattoo parlors, applying tattoos in his clients.
In GTA V, the player can receive tattoos again, but unlike GTA San Andreas, the tattoos only have a cosmetic effect, not affecting the gameplay in any way. There's a total of seven tatoos parlors in the game.
Tattoo Parlors in GTA San AndreasEdit
Players can only apply tattoos to their player character's upper body, but have the option of picking any one of its multiple parts, including the upper and lower parts of their arms, the upper and lower parts of their backs, the left and right chest, and the stomach. Players can also remove existing tattoos at the tattoo parlors. Individually, a tattoo can only increase the player's respect or sex appeal by a maximum of 3%, thus requiring the player purchase multiple tattoos in order to witness any significant changes.
The range of available tattoos depends on the city the player in. The Idlewood and El Corona parlors offer the same selections of tattoos, while Hemlock Tattoo and the Redsands East parlor offer different sets of tattoos each. Prices for tattoos range from a low of $25 to a high of $720, while removal of each tattoo costs $400. Unusually, some of Redsands East parlor's tattoos are not priced at a figure that is divisible to 5, unlike the other three parlors, leading to the notion that the parlor is actually overpricing; comparisons at GTA-SanAndreas.com imply its pricing is 20% higher than in the rest of the state. As mentioned, the Hemlock Tattoo tattoos are unavailable in the PlayStation 2 version of GTA San Andreas.
The following is a complete range of tattoos available to the player by tattoo parlors:
Body part
Idlewood and El Corona parlors
Hemlock Tattoo
Redsands East parlor
Name
Respect % +
Sex appeal % +
Price
Name
Respect % +
Sex appeal % +
Price
Name
Respect % +
Sex appeal % +
Price
Upper left arm
Grave
1
2
$45
Weed
1
2
$50
Spider
2
2
$72
Lower left arm
Gun
2
2
$50
Rose
2
2
$80
Cross
1
2
$84
Clown
1
2
$36
Upper right arm
Africa
2
2
$90
Aztec
2
2
$40
Web
1
2
$60
Clown
1
2
$60
Lower right arm
Cross
2
2
$70
Cross
1
2
$25
Mary
2
2
$120
Cross
1
2
$40
Back (upper)
Grove St.
3
3
$150
San Andreas
3
3
$250
Card
3
3
$240
Westside
3
3
$200
San Fierro
3
3
$350
Los Santos
3
3
$150
Gun
3
3
$450
Left chest
Gun
2
2
$50
Gun
2
2
$50
Crown
2
1
$150
Bullet
2
1
$90
Rasta
2
2
$125
Homeboy
2
2
$120
Right chest
Los Santos
2
2
$80
Weed
2
2
$40
O.G.
2
2
$108
Los Santos
2
2
$45
Los Santos
2
2
$50
Los Santos
2
2
$100
Los Santos
2
2
$65
Stomach
Grove
2
2
$70
Jail
2
2
$30
Dice
2
2
$108
Grove
2
2
$125
God's Gift
2
2
$200
Dice
2
2
$60
Grove
2
2
$100
Lower back
Angel
3
3
$450
Mayan Bird
3
3
$550
Mask
3
3
$720
Dagger
3
3
$350
Mayan Face
3
3
$525
Cross
3
3
$600
Tattos available in Idlewood and El Corona parlors.
Locations in GTA San AndreasEdit
In the original PlayStation 2 version of GTA San Andreas, Hemlock Tattoo is inaccessible to the player, resulting in the player having no access to the parlor's unique selection of tattoos. This glitch was rectified in subsequent versions of the game.
Tattoo Parlors in GTA Chinatown WarsEdit
Tattoo parlors also appear in Grand Theft Auto: Chinatown Wars. Unlike in San Andreas, however, the player cannot personally receive tattoos. Instead, they work for the parlors, applying tattoos to others with the Nintendo DS touchscreen. A rating is given after each tattoo, depending on how closely the player matches the given pattern. The player may continue to give tattoos until the allotted time has expired, or they perform too poorly on the tattoos.
This feature is first introduced in the mission Recruitment Drive, in which Huang Lee tattoos a Triad Rookie as part of this mission. After this, he may work at the parlor anytime.
Tatoo Parlors in GTA VEdit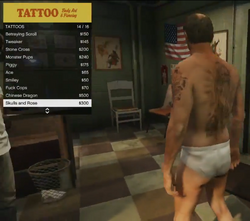 Tattoos make a re-appearance in
GTA V.
They become available after the mission
Mr. Philips
. As with clothing and haircuts, each player character has their own specific set of tattoos to choose from. Tattoos are available for the characters' torso, head, both arms and both legs. Tattoos are also removable by clicking the tattoo the character already has in the menu. All the tattoo parlors in the game have the same tattoo options. Tattoos in GTA V are also entirely cosmetic, with no effect on gameplay.
Heres a complete list of all the tattoos available for each protagonist:
Body Part
Tattoo
Price
Picture
Torso
Eagle and Serpent
$180
Flaming Shamrock
$220
Whiskey Life
$140
Way of the Gun
$350
Lucky
$120
Trinity Knot
$99
Chinese Dragon
$400
Impotent Rage
$420
Head
The Rose of My Heart
$175
Left Arm
Mandy
$300
Mermaid
$240
Lucky Celtic Dogs
$195
Lady M
$280
Faith
$320
Dragon
$350
Right Arm
Family is Forever
$450
Virgin Mary
$380
Flower Mural
$500
Michael and Amanda
$320
Left Leg
Smoking Dagger
$250
Right Leg
Tiki Pinup (Only available in the Special/Collector's Edition)
Free
Body Part
Tattoo
Price
Picture
Torso
Chamberlain (Only available in the Special/Collector's Edition)
Free
Forum4Life
$195
Families Kings
$550
LS Heart
$180
Chamberlain Families LS
$140
Skull on the Cross
$370
Flaming Cross
$210
FAM Power
$245
Families Symbol
$85
Fam 4 Life
$210
LS Flames
$225
Families
$195
These Streets
$255
Los Santos Bills
$300
Impotent Rage
$300
Dragon
$255
Grace and Power
$520
Angel of Los Santos
$365
Head
F Crown
$80
F King
$95
LS Script
$145
LS Bold
$230
Faith
$175
Chamberlain Families
$125
Left Arm
Brotherhood
$230
Serpent Skull
$190
Dragon Mural
$450
Lion
$345
FAMILIES
$200
Right Arm
Serpents
$240
Mother
$200
Chop
$225
Oriental Mural
$275
Fiery Dragon
$245
Left Leg
Dragons
$310
The Warrior
$300
Hottie
$310
Right Leg
Melting Skull
$260
Trust No One
$350
Body Part
Tattoo
Price
Picture
Torso
Imperial Douche
$120
Evil Clown
$250
Blackjack
$120
Eye Catcher
$65
Betraying Scroll
$150
Tweaker
$145
Stone Cross
$200
Monster Pups
$240
Piggy
$175
Ace
$65
Smiley
$50
Fuck Cops
$70
Impotent Rage
$70
Chinese Dragon
$500
Skulls and Rose
$300
Unzipped
$190
Lucky
$129
Left Arm
R.I.P Michael
$150
Zodiac Skull
$140
Dragon and Dagger
$290
The Wages of Sin
$350
Dope Skull
$70
Grim Reaper Smoking Gun
$195
Right Arm
Tribal
$250
Dagger
$50
Broken Skull
$135
Flaming Skull
$245
Muertos
$200
Indian Ram
$230
Left Leg
Grim Reaper
$100
Serpent Skull
$280
Right Leg
Love to Hate (Only available in the Special/Collector's Edition)
Free
Flaming Scorpion
$180
Freedom
$225
Locations in GTA VEdit
The radio that plays inside the tattoo parlors in GTA V is Channel X.
A large number of Michael's tattoo options are Irish-themed. It may imply Michael has Irish ancestry.
One of the available tattoo options in GTA San Andreas is the phrase "Orange Grove Families". This was the original name for the Grove Street Families during the development stages of the game, and apparently this error was never noticed by game developers and it carried over into the final version of the game.

Similarly, another available tattoo erroneously reads "San Fiero" instead of San Fierro. This was either the beta name for San Fierro, or simply a developer's misspelling.
External linksEdit
Tattoos Guide at GTA-SanAndreas.com, including images of tattoos.