The Barfs
Talk

0
10,208pages on
this wiki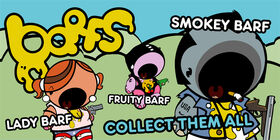 The Barfs
is a Saturday Morning cartoon advertised in
Grand Theft Auto: Vice City Stories
, appearing on
VBC
.
The show is a parody of The Smurfs. Like its real life counterpart, each character has a unique personality and appear on numerous amounts of branded merchandise, such as Little Lacy Surprise underwear. However, unlike the Smurfs, the Barfs explicitly hate sharing, alluding sharing to communism. Each Barf has his or her own firearm for "protection and fun". Their names seem to be a play on the adjectives that can be attributed to kinds of barf.
In Grand Theft Auto V, during the mission "Friend Request", you can see a few The Barfs toys on the wall.
In Grand Theft Auto Online you were able to buy a Barfs t-shirt as part of the Independence Day Special.
Characters
Big Major Barf - a Barf dressed in military garb, carries a M16
Lady Barf - a female Barf, carries a derringer
Chunky Barf - a Barf wearing a do-rag and gold chain, carries a Micro-SMG
Smokey Barf - a Barf who smokes a lot, carries a Double Barreled Shotgun
Tiny Barf - a baby Barf with a mohawk, carries a Python
Fruity Barf - a homosexual Barf, carries a squirt gun