The Celtica Hotel
Talk

0
10,439pages on
this wiki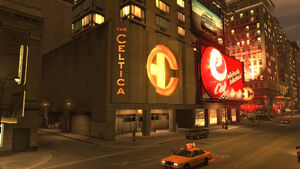 The Celtica Hotel is a hotel chain in the HD Universe, with branches in Liberty City and Los Santos.
Description
In Grand Theft Auto IV, the Celtica is a five-star hotel located in Star Junction, Algonquin, and is based on 1567-1569 Broadway, New York City. The hotel is also featured in Peepthatshit.com under the Hotels section. In Grand Theft Auto V, a branch of the hotel chain can be found in Pillbox Hill, Los Santos. This hotel is modeled after the Chester Williams Building of Los Angeles. The Celtica's logo is a cross surrounded by a circle.
Locations
Trivia
The hotel chain is named after "Celtica", an academic journal devoted to Celtic studies.
The Celtica logo is actually from a Celtic cross, a combination of a cross surrounded by a circle. It is a characteristic of Celtic Christianity, although the first Celtic Cross, found in a cave in the French Pyrenees, goes back to earlier periods (10,000 BC).
Gallery