The Multi Target Assassination
Talk

0
8,710pages on
this wiki
The Multi Target Assassination is a mission in Grand Theft Auto V, given to protagonist Franklin Clinton by Lester Crest.
Overview
Franklin arrives at a Limited Service gas station in Little Seoul to discover a nearby payphone ringing. He answers; Lester is on the line. Lester tells Franklin that Redwood Cigarettes has bribed four corrupt jurors to rig an emphysema-related class action lawsuit against the company. Lester wants Franklin to kill the four jurors to help the emphysema victims and so that Lester can make a lot of money. Lester recommends that Franklin pick up a sniper rifle, then hangs up. Almost immediately, he texts Franklin with the location of the first of the four jurors. Frankling must hurry, as the trial concludes the next day; he has nine minutes in real time to kill all four. Once the fourth juror is dead, Franklin calls Lester and informs him the mission is complete. 
Mission objectives
Tips
Juror 1 is a body builder at the Muscle Sands Gym. A sniper rifle is advised as the target will flee if the player gets too close.
Juror 2 is on a sailboat in the Pacific Ocean. The juror is a man and is accompanied by a female companion. In order to complete the mission in time, the player must snipe the juror from the shore.
Juror 3 is located several floors up on the side of the Eclipse Medical Tower. The player must use a sniper rifle or some other long range weapon.
Juror 4 can be killed in a wide variety of ways, including a drive-by or via simply running over the juror with a car.
Gold Medal Objectives
Speedy Killer - Kill all targets as quickly as possible
Video walkthrough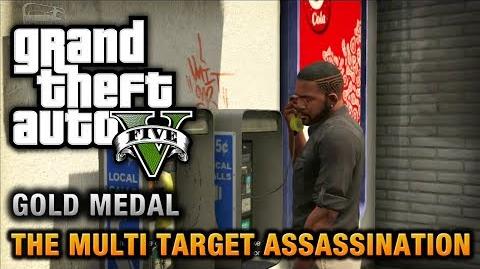 Trivia
This mission is similar to Autocide in GTA Vice City, where the player receives the mission per phone and needs to eliminate multiple targets.
Stock Tip
Before you start this mission you may want to invest in Debonaire on the LCN stock exchange.